Crash diets promise to make you lose a lot of body weight in a very short time. In this period of a week at the most, you can lose 5 kilos of body weight. You may think this sounds tempting. After all, we all want to lose a lot of weight as quickly as possible. However, following a crash diet also has a number of undeniable downsides. In this article we will explain why it is better not to opt for an unhealthy crash diet but a more gradual way to lose weight.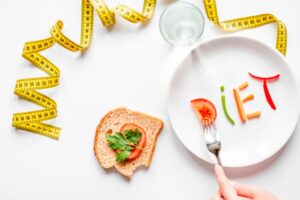 What exactly does a crash diet entail?
As mentioned, a crash diet aims to lose a lot of weight in a short time. A crash diet therefore lasts no more than a week. During the diet, a strong negative energy balance is achieved. This means that you will drastically limit your amount of calories. Where a man and woman consume an average of 2500 and 2000 kcal per day, a crash diet prescribes less than 1000 kcal per day. This forces your body to extract energy from body fat, among other things, so that you lose weight. Unfortunately, it is not only fat that you lose, but also fluid and muscle mass.
The negative sides of a crash diet
During the crash diet you lose not only fat, but also muscle mass. Your body will get energy from breaking down muscles, which is very undesirable. After all, your muscles ensure a good metabolism, which you need to lose weight efficiently. So a shame!
A well-known phenomenon that comes into play after following a crash diet is the yo-yo effect. During the crash diet, you limit your calorie intake so drastically that your body goes into a saving mode. It will be very economical with the energy it receives. When you start eating more after the crash diet, all extra energy will be stored almost immediately as fat. This will probably make you gain even more than you weighed for the diet.
Finally, the crash diet contains little balanced nutrition, which means that your body lacks essential nutrients. Certainly if you follow a crash diet more often, you can run into certain deficiencies of vitamins, minerals or dietary fiber.
Conclusion
The crash diet is a very heavy diet and will not take you much further in the long term. You can use such a diet, for example to fit in that nice dress in the short term, but you will quickly gain weight again due to the yo-yo effect. So it is wiser to choose a diet that makes you lose weight more gradually, contains more vitamins and is less drastic. And you maintain muscle mass by sufficient protein.